Getting married in Sorrento is a dream filled with love and joy, cheerfulness and elegance. Every wedding is different: it's the goal of a journey that's sometimes long, sometimes short but always awaited and shared with loved ones. And when the time comes, anyone can't help but celebrate!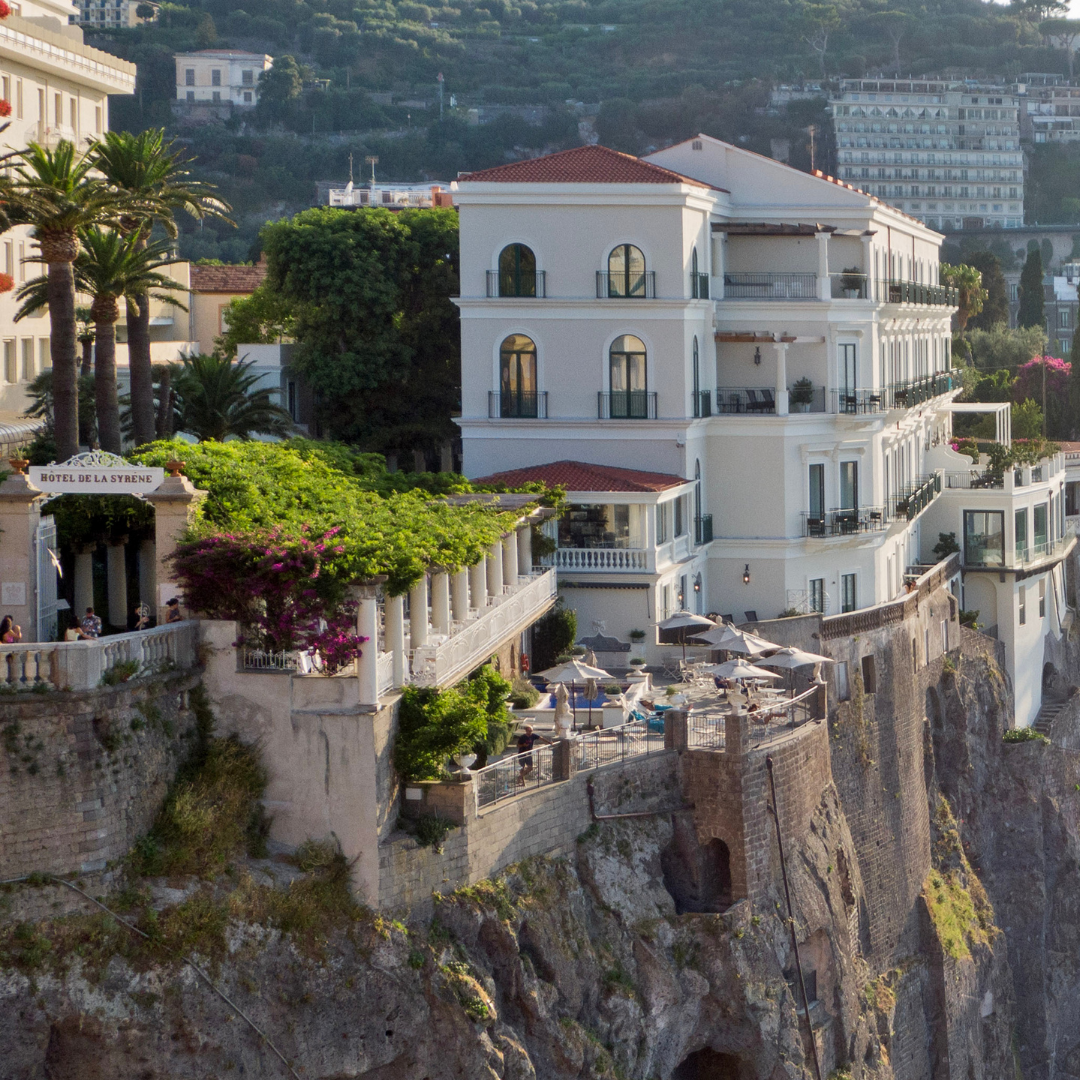 We are proud that Bellevue Syrene is a place of the heart for so many people worldwide, thinking of Sorrento as a romantic dream to come true. That's why we take great care arranging and carrying out each event that we host throughout the year. Sirens' land has indeed different reasons to appeal during each season.

Villa Pompeiana and Capo Santa Fortunata are two different but equally suggestive locations that Bellevue Group makes available to spouses who wish to take advantage our Wedding team long experience, sensitivity and passion.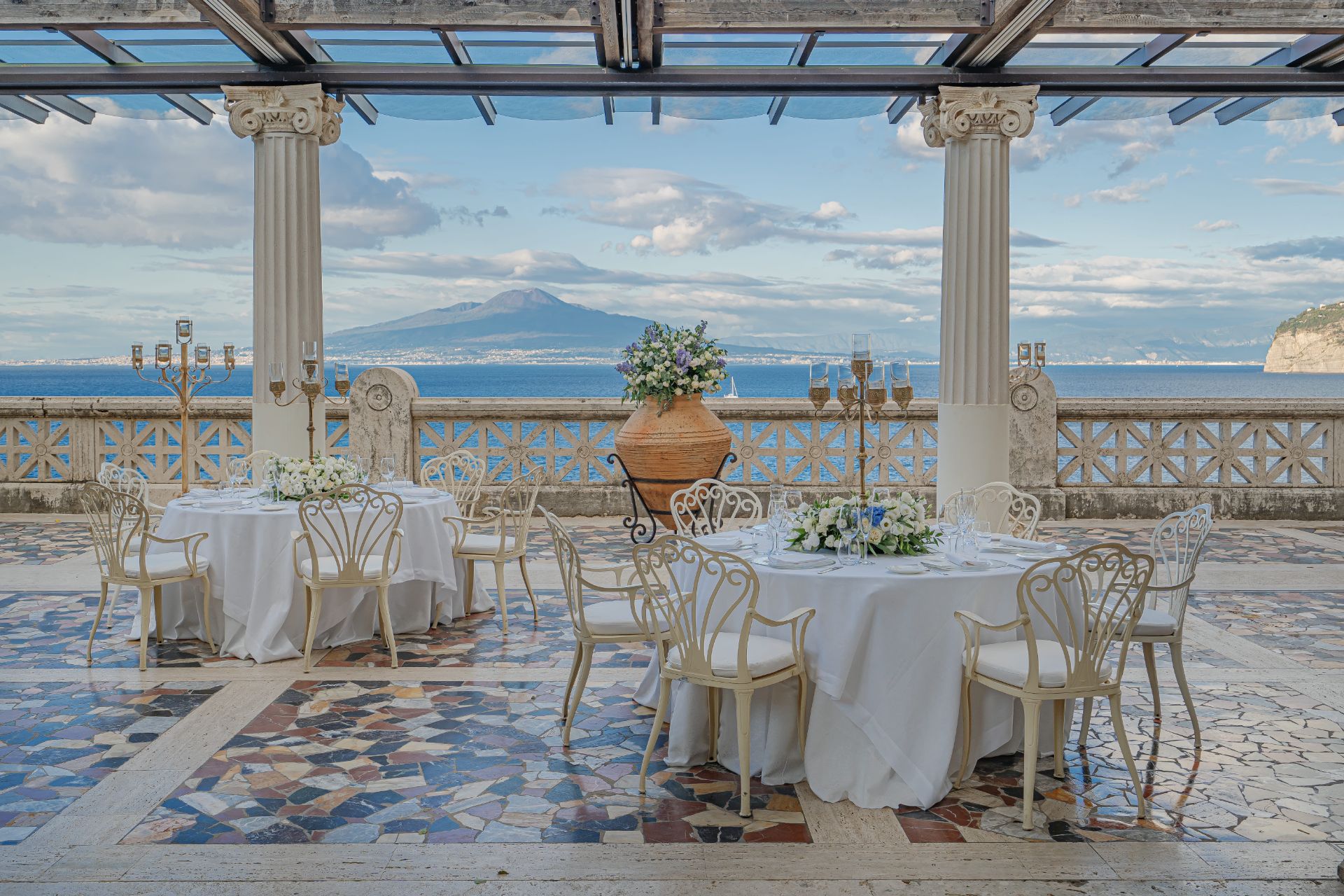 The Villa Pompeiana is an enchanting terrace overlooking the sea with two unique rooms, a faithful reproduction of Pompeii's House of the Vetti dated back to the early 1900s and commissioned by Lord Astor, a cultured and wealthy enthusiast of ancient history. It is well preserved and carefully guarded by the Hotel management together with Monuments and Fine Arts Department. It is opened during summer for breakfast and for special events.
Capo Canta Fortunata is an elegant residence surrounded by 10.000sqm of Mediterranean lush nature with breathtaking views of the Gulf of Naples. The characteristic terraced ground allows guests to enjoy a large outdoor space during the whole event between wonderful stone arches, the swimming pool and the gardens.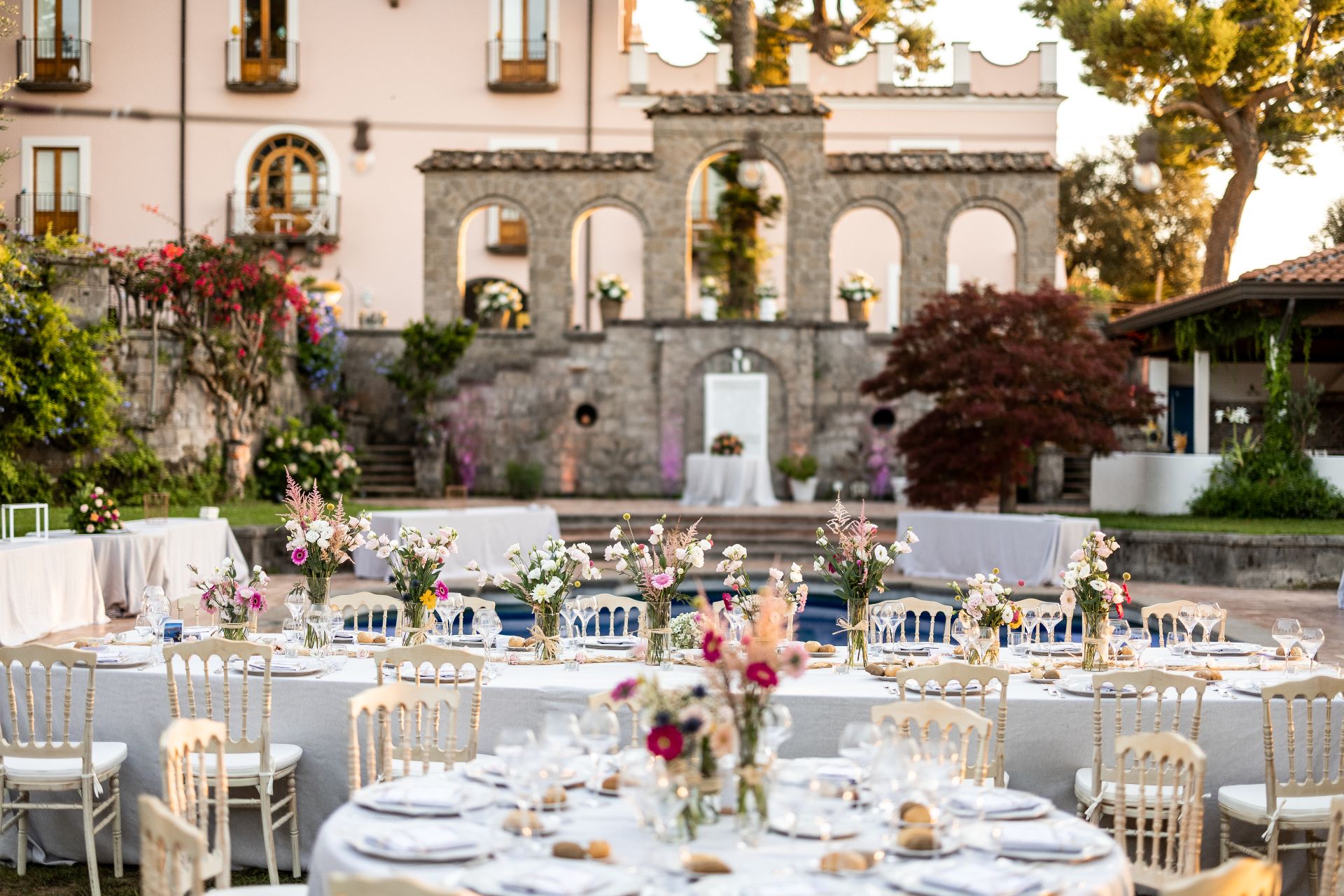 Both alternatives are served by the gastronomic proposal from Bellevue Syrene and enhanced with a mixology experience by PIEMME, the historic company of Limoncello and Mediterranean liqueurs, a pillar of the Bellevue Group and a landmark for the agro-food and liqueur sector of the region since 1969.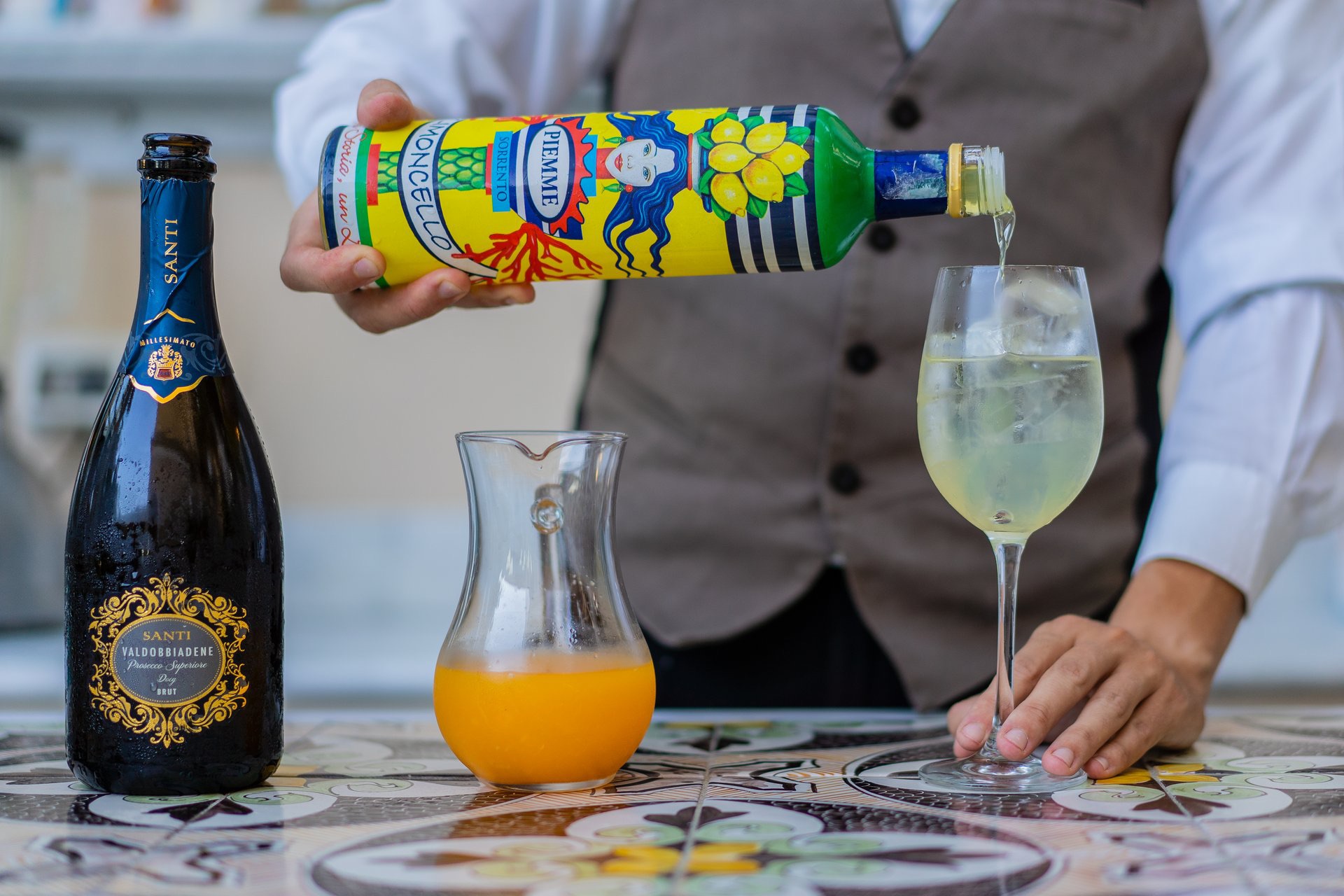 Bellevue wedding offer is available also during autumn and winter by taking advantage of the Mimmo Jodice hall, located inside the Bellevue Syrene Hotel, with its beautiful windows and mirrors reflecting the landscape. This majestic hall allows guests to enjoy the amazing view of the winter sea breaking on the Mediterranean coast.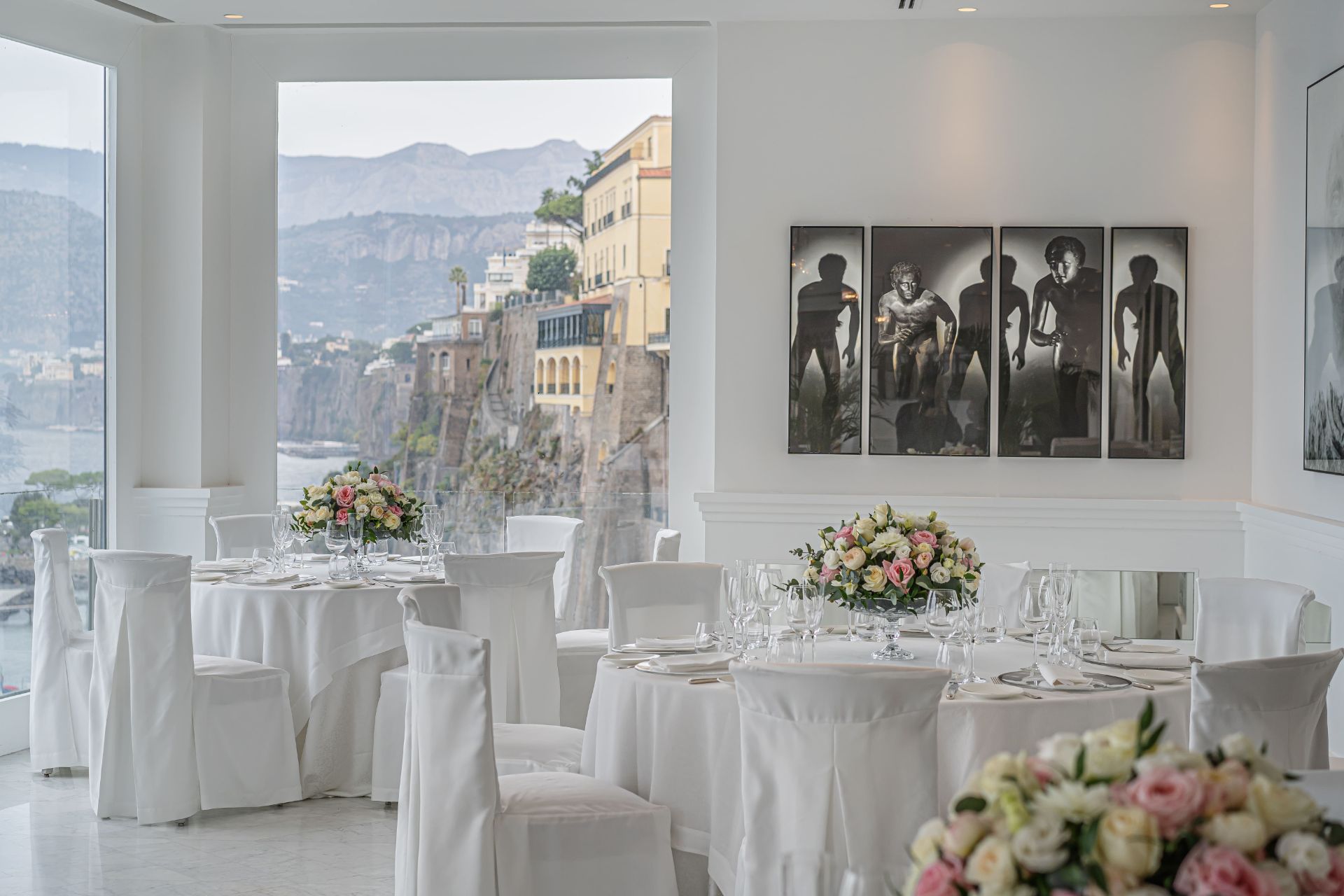 For more information on the Wedding offer, to get in touch with our Wedding planner or to book a site inspection of Bellevue Syrene or Capo Santa Fortunata or for any other question about how to arrange your wedding or special event, please write to banchetti@bellevue.it or info@caposantafortunata.com